1 View
The Quiet Evolution of the Kawasaki Teryx
June 16th, 2015 4:32 PM
Share
How one of the best all-around UTVs in the industry keeps improving
While no single vehicle can do everything for everybody, there are a handful of machines that are up to many a task. Perhaps our favorite off-road Swiss Army knife is the Kawasaki Teryx.
Whether you need some help moving people and towing cargo around the property or are in the mood to push the throttle to the floor and rip up your local trails, the Kawasaki Teryx has your back. Thanks to its powerful V-Twin engine and rugged build quality the Teryx really feels like it has hit the sweet spot between Sport and Utility.
In The Beginning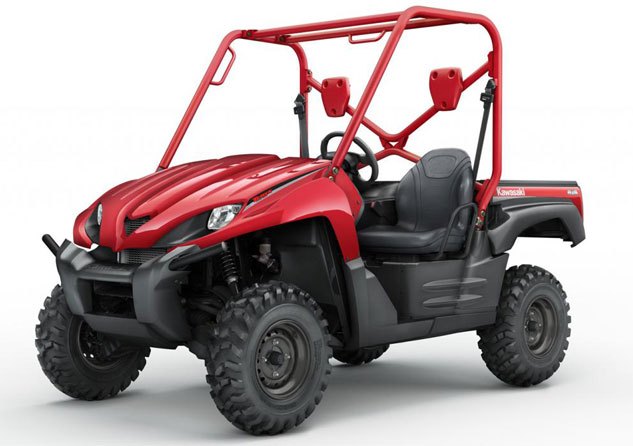 This is the original 2008 Kawasaki Teryx 750 4×4.
Kawasaki first let word out about its first sport-utility UTV in 2007. The UTV landscape was very different back then. Yamaha's Rhino, just a few years old at this point, was the first UTV to have any real semblance of a sporty personality and eager consumers used the aftermarket to build an entirely new racing class. Arctic Cat followed in Yamaha's footsteps with its Prowler line. Polaris had taken notice of an emerging market and in 2007 (2008 model year) released the original RZR – the first Side-by-Side to forgo any illusion of Utility.
When we previewed the 2008 Teryx, we noted that it seemed like a combination of the Kawasaki Mule UTV and Brute Force ATV. In hindsight that was maybe a little too simplistic a description, but we still weren't entirely sure what to make of this class.
We were among the first to get behind the wheel of the Teryx at its introduction in St. George, Utah. While Kawasaki boasted of its 500-pound cargo box capacity and 1,300-pound towing capacity, this was more of a chance to put the hammer down and rip up the beautiful red sand of St. George.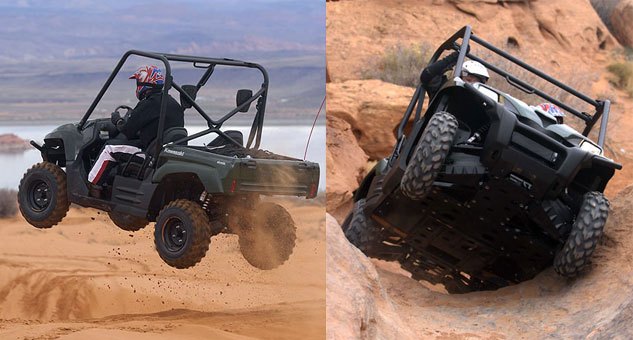 The Teryx impressed us with how well balanced it felt in the air and its ability to crawl up and over just about anything.
What stood out to us was how well balanced the Teryx felt – especially when airborne – thanks to its mid-engine design. It was also an rock crawler as the 749cc carbureted V-Twin was eager to bare its considerable teeth.
Fuel Injection Introduced
Less than a year after the original Teryx was announced, Kawasaki surprised the industry at its dealer show by unveiling a significantly updated Teryx – this time with electronic fuel injection.
The lack of fuel injection was our main gripe with the 2008 Teryx and Kawasaki addressed it in shockingly short order. If we ever doubted whether fuel injection really mattered, those thoughts were gone the moment we stepped on the gas in the 2009 Teryx 750 FI. It was hard to believe how much of a difference fuel injection made in throttle response – and this was on a perfectly warm day at low altitude.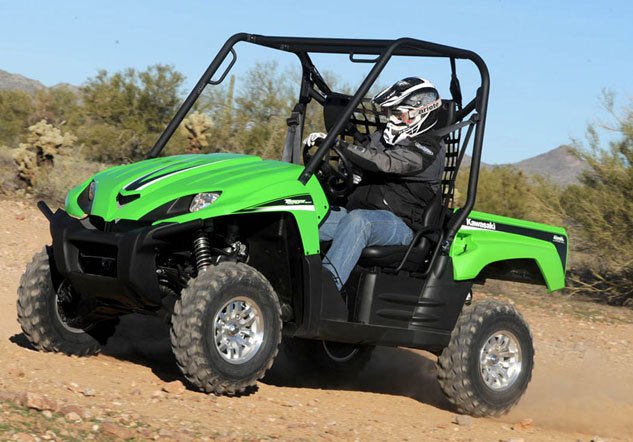 Electronic fuel injection was added for the 2009 model year and it made a huge improvement in throttle response.
Other changes for 2009 included a digital gauge, altered ignition timing (to boost low and mid-range torque), revised intake and exhaust cooling ducts, revised settings on the Kayaba gas-charged shocks and new stabilizer bar. As well, the gas-assisted tilting cargo bed made its way to the base model.
A total of six Teryx models were available for 2009, including two new Sport models – the Teryx Sport and Teryx Sport Monster Energy. Unique to these models were piggyback reservoirs on the Kayaba shocks with adjustable preload and adjustable rebound and compression damping.
Styling Update
Kawasaki managed to wait a full year before making even more changes to the Teryx. For the 2010, model year the Teryx received a new look, courtesy of a hinged, forward-tilting hood with more angular lines.

You can see the styling evolution of the Teryx in this photo. On the left is the 2009 model with more rounded lines. On the right is the 2010 Teryx with more angular bodywork.
Team Green made a host of other changes to its Sport-Utility UTV, including new inset headlights, new ignition cut-out designed to prevent accidently riding with the parking brake on, larger radiator fan, larger diameter hoses, relocated coolant reserve tank and increased rigidity in the tilt bed's frame.
Kawasaki left the Teryx unchanged for the 2011 model year, but that didn't stop us from getting very familiar with a 2011 Teryx Sport. Kawasaki invited us on an off-road trip from Big Bear, Calif. to Las Vegas. We rode 330 miles over two days and beat the living hell out of our Teryx Sport. Impressively, none of the eight Kawasaki Teryx RUVs on our trip suffered even the smallest mechanical issue. With a combined 2600 miles, our sum total of problems was two flat tires and some very tired riders.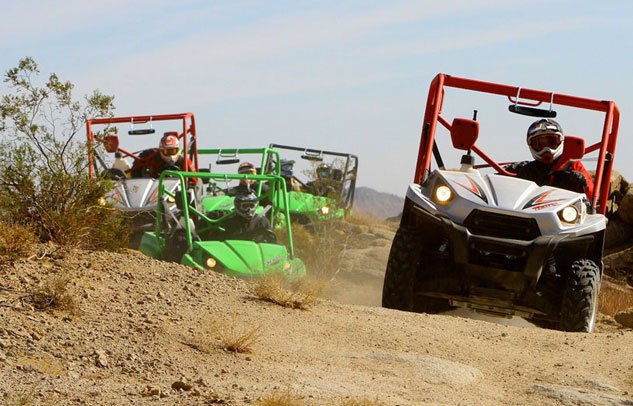 We challenged the 2011 Kawasaki Teryx with 330 grueling miles from Big Bear, Calif. to Las Vegas.
Two More Seats
Kawasaki introduced its highly anticipated Teryx4 for the 2012 model year. By this point, we'd seen other four-seat UTVs hit the market so it wasn't a big surprise to see Kawasaki join the party. However, there were surprises in store when Kawasaki took the covers off its four-seater.
While other four-seat UTVs tended to looked like oddly stretched-out versions of two-seaters, the Teryx4 was only about eight inches longer than the two-seat Teryx. This made the Teryx4 easily the most trail-friendly four-seat UTV in the industry. It was at home in tight wooded trails like no other four-seater we've seen before or since.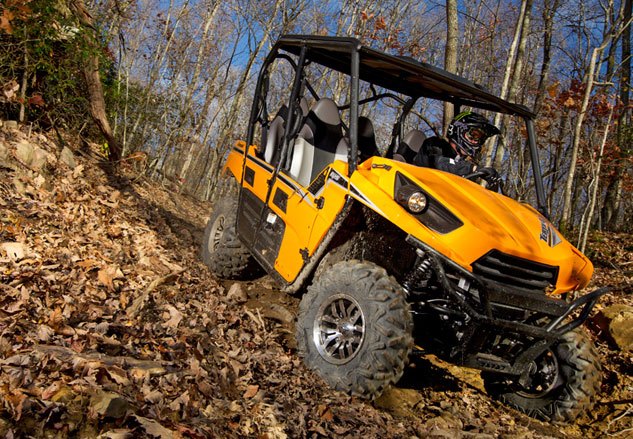 Kawasaki gave consumers the first four-seat Sport-Utility Side-by-Side compact enough to thrive in tightly wooded trails.
Kawasaki did have to sacrifice some cargo space and overall Utility to achieve its compact size, but rider comfort actually improved. This is thanks to much more comfortable seats – seats we surly would have appreciated on our two-day ride to Las Vegas! As well, the rear passengers are seated higher and slightly closer together, giving them a clear view of the trail ahead.
Also different on the Teryx4 is a 15% power increase from the 749cc V-Twin, 26-inch Maxxis Bighorn 2.0 tires, additional suspension travel and an all-new square-tube steel frame with a Double-X design – basically two X-shaped cross members bridging the box structures from corner to corner.
Electronic power steering was also made available for the first time in a Teryx in select models. Regular readers of ATV.com know how much we appreciate this feature. Your body just feels better after a long day of riding when you've got power steering. It allows you to ride longer and harder.
More Power!
Two years after Kawasaki unveiled the Teryx4, it made major changes to what is now its flagship four-wheeler for the 2014 model year – including the addition of a new 783cc V-Twin which generates a claimed 10% more power and 8% more torque. This was stunning news, as no Japanese manufacturer had ever put such a large engine in an off-road vehicle.
To help better control the improved power, Kawasaki partnered with Fox to outfit the 2014 Teryx4 with gas-charged Fox Podium piggyback reservoir shocks – now controlling 8.0 inches of travel up front and 8.3 inches of travel in the rear.
Kawasaki upgraded the engine for 2014 to a 783cc V-Twin, adding even more power to the Teryx4.
Finally, Kawasaki made electronic power steering standard across the Teryx4 line.
Kawasaki is providing an industry-leading three-year limited warranty on the Teryx4. Competitive brands are typically offering warranties between six months and one year on off-road vehicles, making Kawasaki's commitment an impressive one.
Sharing The Love
Just two months after the new Teryx4 was unveiled, Kawasaki gave the two-seat Teryx its first update in four years.
As expected, the 2014 Kawasaki Teryx receives many of the changes seen in its big brother. Now powered by the 783cc V-Twin, the two-seat Teryx benefits from a claimed 26% boost in horsepower and 12% bump in torque. As well, the two-seat Teryx receives the same Fox Podium piggyback shocks controlling the same 8.0 inches of travel up front and 8.3 inches in the rear. The two-seat Teryx also features the same double-X steel frame design as the Teryx4.
With more power comes more Utility, as the 2014 Teryx can now haul 600 pounds in the cargo bed – a 100-pound improvement over the prior-year model. That cargo bed comes with a gas-assist tilt feature and has integrated cargo hooks and an integrated tool mount system designed to accommodate quick attach/detach Kawasaki accessories. Standard equipment now includes a two-inch receiver hitch, latching doors and electronic power steering.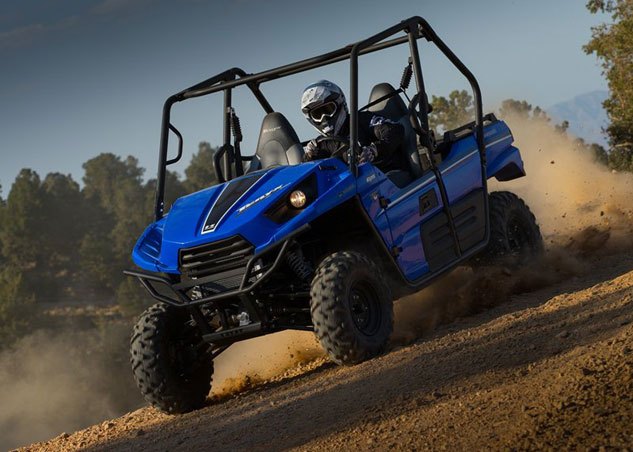 Kawasaki made wholesale changes to the two-seat Teryx for 2014, including a more powerful engine and a new frame.
Beyond the 600-pound capacity in the bed, Kawasaki also outfitted the 2014 Teryx with a pair of water-resistant storage bins. Users can a best-in-class 48 gallons of gear in these sealed bins and keep it clean and dry.
The most obvious change for the 2014 Teryx is its styling. It looks less square and boxy and just seems sportier. Thankfully, it also receives the same comfy seats at the Teryx4.
For consumers who want to step it up a notch, Teryx and Teryx4 Camo and LE models feature high intensity LED lighting and hard sun tops.
Like the Teryx4, the two-seat Teryx also benefits from Kawasaki's three-year limited warranty.
What's Next?
Kawasaki is clearly not shy about making improvements to the Teryx family so it shouldn't come as any surprise if we see something new in the next little while.
While we have no idea what's to come in model year 2015 and beyond, we can only imagine that this versatile machine will continue to evolve without losing the do-anything legacy Kawasaki has built into it.
Published December 6th, 2013 10:20 AM
Top Brands
Popular Articles