29 Views
May 18th, 2022 10:33 PM
Share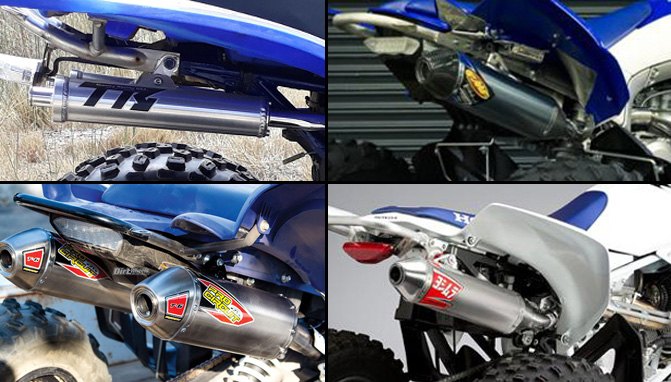 Find the right exhaust for your ATV
Whenever you get to talking about the best of something, there are always opinions to the contrary. Just ask someone on social media which brand of ATV is best and you'll get 100 different answers. Exhaust systems add performance to your ATV and a customized touch. If you want to know which exhaust system is best for your machine, there are lots of options. Here are our picks of the best ATV exhaust systems on the market and the machines that helped elevate them to that status.
1. Editor's Choice: HMF Racing Utility Series
HMF grew from a small company in Ohio building high-end exhaust systems for street bikes, into a major player in the four-stroke ATV exhaust world. The company's Utility series exhausts are considered to be among the best on the market. For the Can-Am Outlander 1000R, the HMF slip-on system boosts horsepower 10-15% and only adds, on average, 1-2dB to the sound output. Made from TIG-welded, 6061 aerospace-grade aluminum, and 304 stainless steel, this system is about as top-shelf as it gets. It includes a removable USFS-approved spark arrestor. Repackable Bristol Core brand baffles make this a long-lasting exhaust system too.
2. FMF Factory-4.1 RCT Anodized Titanium Silencer with Carbon End Cap
The Flying Machine Factory makes the list with its crazy lightweight Titanium silencer/carbon fiber end cap combo that is a great choice for those looking to increase power and reduce weight on their Yamaha YFZ450Rs. You'll see a big power boost for whatever sport machine you mount this exhaust system on and the look is so trick that you'll immediately win style points. But what really helps get this system on a list of best ATV exhaust systems is what you won't hear – it's quiet. FMF designed this system to maintain decent sound levels so you don't exceed any competition sound limits, or make your machine too loud to hit the trail with. It includes the FMF Quiet Core and a USFS-approved spark arrestor. How cool is it? If you're into dirt bikes, this is the same system you'll find on the Supercross factory team replica Husqvarna FC450 bikes.
3. Yoshimura RS-2 Stainless/Aluminum Full System
There are certain products that have an iconic shape that people come to expect. Yoshimura Performance Exhaust systems are known for their trapezoid shape almost as much as they are known for their amazing performance. Now, you can spend more to cut weight with their carbon fiber systems, but if you want the look and performance, the RS-2 system adds horsepower throughout the entire range of your engine and it really opens up your Honda Fourtrax TRX450R. Two other nice features of the system are a low 96dB sound level and the price, being an aluminum and stainless steel system as opposed to carbon fiber and titanium. You get a USFS-approved spark arrestor and you can remove the quiet core if you want, but if you're looking for some solid trail performance, this is a great system and one of the best ATV exhaust systems for your TRX450R.
4. Pro Circuit T-6 Dual Exhaust System
Yamaha's Raptor 700 machines are the current kings on the sport scene for ATVs. These big, bad thumpers make great dune riders, trail tamers and are all around just fun to ride. You can also add some serious bite to the Raptor with a Pro Circuit T-6 dual exhaust. This one-into-two system splits a single pipe into two mufflers to boost power, which some motocross bikes are doing these days. Made from TIG-welded stainless steel and aluminum, this system will bump up power, reduce weight and last for the life of the machine. Both mufflers have removable USFS-approved spark arrestors for trail use. Pro Circuit Exhaust systems are among the best you can buy, and this is among the best ATV exhaust systems for the Yamaha Raptor 700R.
5. Big Gun EVO R Dual Muffler
The Big Gun EVO R saves you weight over the stock system on your Yamaha Raptor and gives you noticeable performance gains and a wicked growl. This system comes with a hard-anodized oval-shaped aluminum muffler, reinforced muffler brackets, 304 stainless steel mid-pipe or head pipe, red powder coated stainless steel end tip, a removable USFS-approved spark arrestor, and a one-year limited manufacturer's warranty backs the entire package. Check out this feature if you want more info on Big Gun's lineup of ATV exhaust systems.
6. Bonus - Best Fuel Controller: Big Gun Power Box
If you are going to add an exhaust system to your ATV, you need to properly tune it. The Big Gun Power Box is a simple plug-and-play fuel controller that makes it easy to get the most out of your new exhaust. Going without a proper tuning after installing an aftermarket ATV exhaust system can mean you end up running extra lean (air-to-fuel mixture is too light). The Power Box cures those ills straight away.
What is the best ATV exhaust system?
Opinions on what is the best ATV exhaust system vary, but as long as you know what type of riding you're doing, and what you can honestly expect from this modification, you should be able to make a solid decision. If you're looking to add horsepower, know going in that on four-stroke ATVs, the power gains are usually right in the 10% range. Two strokes, like the Banshee or Honda's TRX 250R, will get a bigger boost due to the nature of the engine. If you're looking to cut weight, too, there are exhaust systems for your ATV that use materials like carbon fiber and titanium, but the costs will go up significantly.
What is the best ATV exhaust system for my machine?
One of the great things about the ATV aftermarket is there are ATV exhaust systems available for pretty much every ATV on the market. Some machines may not have a lot of options, so you may be limited depending on what you ride, but there will be something available that will perform as well or better than stock. With the utility class outselling the sport machines by a massive margin, there are quite a few options for the popular ATVs, like the Can-Am Outlander or Polaris Sportsman lines. See what is available for your specific machine and start from there.
Recent Updates
05/17/2022: Updated product descriptions and product links
April 20, 2021: Added the Big Gun EVO R and Power Box to our list.
We are committed to finding, researching, and recommending the best products. We earn commissions from purchases you make using the retail links in our product reviews. Learn more about how this works.
Published April 5th, 2019 3:58 PM
Top Brands
Popular Articles