40 Views
CAKE Plans To Build Autonomous Electric ATVs
December 19th, 2022 7:52 PM
Share
We're committed to finding, researching, and recommending the best products. We earn commissions from purchases you make using links in our articles. Learn more here
CAKE, best-known for its innovate ebikes, is planning to move into the world of four-wheelers. Currently, the Swedish manufacturer is working on a project called Kibb—an EV that can serve as both a utility ATV and an autonomous farm vehicle.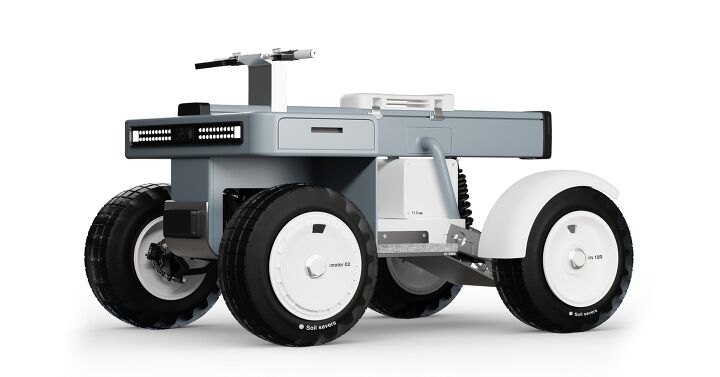 The project came as the brainchild of Fanny Jonsson; she started work on the project while an intern at CAKE, through her program at the Umeå Institute of Design. After she graduated, CAKE's leadership was interested enough to bring her on board to continue her work, now as an in-house designer.
"When I started to build out the concept, I had real world challenges in mind, and explored heavily where there is the most unlocked potential on the market," Jonsonn said. Now, she and CAKE are working on the vehicle as their response to greenhouse gas emissions by the farming industry.
CAKE's website puts it this way: "Agriculture is one of the industries that contributes to the most greenhouse gas emissions in the world. This is slowly killing our soil and prevents healthy growth, so the industry is, at this point, slowly killing itself. Today, the access to non-pollutant transportation and machines is very limited."
Whether or not you agree that farmers are polluting the environment with their vehicles, it is indeed true that EVs are a rare thing in the agricultural world, but that's likely to change. If governments continue to legislate against gasoline-powered vehicles, farm equipment is eventually going to be targeted, including utility ATVs. CAKE is looking to provide an alternative that may be needed very soon.
CAKE's website lists no specs, and the images there all seem to be renderings at this point. We do get the following description of the plan for the Kibb.
The Kibb DNA
Gentle
The vehicle is designed to, at all times, make as little impact as possible, while still providing the user with the power and capability that's needed.
Modular
The modular body of the Kibb will have different attachment points to allow for compatibility with a wide variety of ATV accessories. It can also act as a mobile power station, providing the farmer with a new best friend to perform the day to day duties associated with regenerative agricultural life.
Autonomous
With its level of autonomy, the Kibb can do many tasks by itself. This could free up time for the user to do tasks on the ranch or farm where supervision is needed.
Not much information to work with there, but we'd expect more in coming months, as Kibb says it plans to offer this vehicle by 2025.
That gives CAKE little time to work out issues such as battery range and other powertrain concerns, not to mention the very real problems of chassis design.
However, although CAKE's existing electric vehicles are not for everyone in the motorcycle world, the company at least has a consistent track record of delivering machines, and if the company says it will build the Kibb, we do expect to see it. And when it arrives, it looks like it'll be a very different machine from the Polaris Ranger EV and other similar electric utility vehicles that are available now.
Find more details at ridecake.com.

Published December 19th, 2022 7:52 PM
Top Brands
Popular Articles