8 Views
Top 10 Most Exciting ATVs and UTVs of 2011
June 16th, 2015 4:48 PM
Share
We're committed to finding, researching, and recommending the best products. We earn commissions from purchases you make using links in our articles. Learn more here
A look back at an exciting year of off-road funsters
We may still be mired in a sluggish economy, but you wouldn't necessarily know it if you looked at what the ATV and UTV manufacturers introduced in 2011.
It really was an interesting year. Not only did 2011 reveal the most expensive and wildest machines ever produced by major ATV/UTV manufacturers, but we also saw some machines that were specifically targeting those a little lighter in the wallet. If the past 12 months taught us anything it's that there really is something for everybody.
Arctic Cat Wildcat 1000i
We can't think of a single instance in our years of covering the off-road universe where a manufacturer did as good a job of building up suspense and anticipation of a new product like Arctic Cat did with the Wildcat 1000i.
Get the Flash Player to see this player.
It all started in March, 2011 with a leaked video from an Arctic Cat dealer event that gave everybody a glimpse of what was to come. No details were revealed – just a quick look at what Arctic Cat had in mind. Cat followed that up a few weeks later with just a few vague details when CEO Claude Jordan said the machine was inspired by race bred and race proven designs and would feature an extremely capable suspension.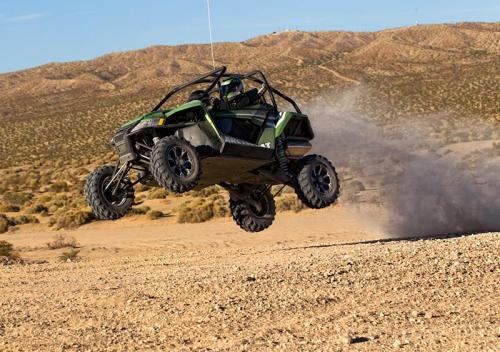 As customers salivated over the possibilities, Arctic Cat kept everybody waiting for more until July when it finally provided a clearer picture of what was to come. Not only did Arctic Cat finally provide more photos, but we learned the Wildcat would have 18 inches of rear suspension travel, full perimeter frame, electronic power steering, and a 951cc engine. Anticipation was so strong that we wrote an article about why we were excited about the Wildcat.
Finally, in October, we were finally able to get behind the wheel of the $16,599 beast. Though we thought it could use a little more power, there was no doubt that the Arctic Cat Wildcat lived up to our lofty expectations. The Wildcat's suspension was as amazing as we'd hoped – it soaked up every bump and whoop we put in its path and asked for more. If you've never had a chance to ride one, drop what you're doing and find the nearest demo ride.
Polaris Ranger RZR XP 900
While Arctic Cat chose to slowly leak out information on the Wildcat, Polaris almost always hits you over the head with something completely new and unexpected all at once. Such was the case with the fantastic Ranger RZR XP 900 … sort of.
Get the Flash Player to see this player.
Polaris did tease that something new was coming on Jan. 1, 2011, but that was all we were told. When the new year was born, Polaris stunned the off-road world with the Ranger RZR XP 900. It was a complete surprise because Polaris already had far and away the sportiest UTV available with the Ranger RZR S 800 and as far as we knew nobody was working on a competitor. But that's typical Polaris. When the competition isn't there, just compete with yourself and continue to push the envelope.
Everything about the RZR XP 900 is exciting. It features the only purpose-built UTV engine in the industry (the ProStar 900) and a game-changing 3-Link Trailing Arm Independent Rear Suspension with 14 inches of travel. Fox Podium X 2.0 shocks are found at all four corners and when it was released this package simply decimated anything offered from a competitor.
Just a few weeks after learning of the RZR XP 900's existence we were behind the wheel and finding out exactly how fun a UTV could be. It was an amazing experience and left us scrambling to find any negatives besides its lofty price tag of $15,9999 (it could use power steering, but we expect that in the near future).
Next Page… Low Priced YFZ and Brute Force
Yamaha YFZ450
Yamaha gave us one of the most pleasant surprises of 2011 with the return of the YFZ450. This may not sound exciting as on the surface it's just old technology; however, we think it's a stroke of genius.
Before Yamaha dusted off the YFZ, if you wanted a 450cc sport quad the lowest MSRP available was $7,999 for the Honda TRX450R and it goes way up from there (including $8,599 for the YFZ450R). Admittedly most of these machines were race-ready out of the box, but the majority of people don't want to race … they just want a fun, fast machine to ride on the weekends. To appeal to these weekend warriors, Yamaha offered up some old technology at a new, much lower price of $6,799! This might be the best value in the ATV industry.
Get the Flash Player to see this player.
The YFZ450 still has a potent 450cc motor, the same chassis design as the original YFZ and powerful dual hydraulic discs brakes up front and one in the rear. The major difference between this and the other 450cc sport quads is the engine is carbureted and the piggyback reservoir front shocks have been replaced by non-reservoir KYB shocks (there is a piggyback Showa shock in the rear). If the suspension really bothers you, you'll have no trouble finding stock suspenders from the YFZ450R on the used market for pennies on the dollar and they're completely compatible.
Kawasaki Brute Force 300
The last few years in the ATV industry have been all about bigger, bigger, and bigger. That's why were surprised to hear about two new low-displacement utility ATVs, including the Brute Force 300.
Get the Flash Player to see this player.
Kawasaki said goodbye to the old Bayou 250 and we wouldn't have been surprised if it had simply given that machine a refresh and the Brute Force nameplate and called it a day. Fortunately, that's not at all what happened. We think the smallest Brute Force should be a great way for a new rider to fall in love with the sport.
We were pleased that the baby Brute had plenty of room for larger riders and a comfortable seat. It won't win many drag races, but we got the front wheels in the air a few times and there is enough engine to have some fun. Best of all, it looks like a grown up ATV and not a cheap kid's toy. Its $4,199 price tag is also easy to swallow.
Yamaha also introduced a 300-class utility ATV this year, but we have yet to squeeze the throttle on the Grizzly 300. It does cost $100 less than the Brute Force, but until we ride it that's the only comparison we can really make.
Next Page… Can-Am Gets Power Hungry
Can-Am Renegade 800R and 1000
Though the Kawasaki Brute Force 300 is a fine choice for new riders, the truly power hungry are no doubt salivating over Can-Am's new Renegade 800R and 1000.
The Renegade 1000 is a brand new machine and the 800R has been completely redesigned for 2012. Both will knock your socks off with their power and performance, but the Renegade 1000 will really take your breath away. Can-Am shoehorned the 976cc engine from the Commander into the Renegade and it produces a terrifying 82 horsepower. The engine produces brutal power and acceleration. This is a machine for very experienced riders and demands the utmost respect. The Renegade 800R is still very powerful, but it's easier to manage.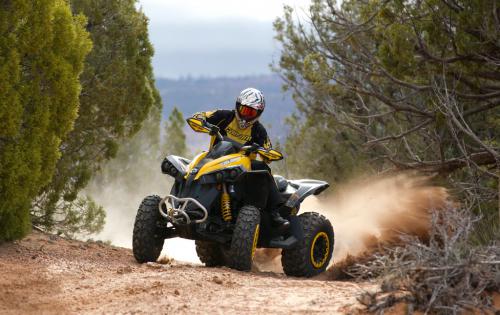 Both Renegades feature a new airbox designed to get more clean air to the engine, as well as a new transmission cover with an improved seal, engine braking, and a larger radiator. The chassis benefits from the latest Surrounding Spar Technology G2 frame, redesigned double A-arm front suspension with dive control geometry, and a reconfigured Trailing Torsional Independent rear suspension with 9.3 inches of travel. Also new are 12-inch cast aluminum wheels mated to 25-inch ITP Holeshot Air tires.
If this isn't enough for you, Can-Am is offering a Renegade X xc package that comes with Tri-Mode Dynamic Power Steering, allowing the user to choose between three different levels of assistance. This package also includes Fox Racing Podium X piggyback shocks with high- and low-speed compression adjustability, rebound and preload adjustment, 12-inch aluminum beadlock wheels, aluminum skid plates, and more.
Can-Am Outlander 800R and 1000
Can-Am, not wanting to give the Renegade all the fun, gave the Outlander 800R a complete redesign and introduced the all new Outlander 1000.
Like the Reneagde 1000, the Outlander 1000 receives the 82-horsepower, 976cc engine originally found in the Can-Am Commander. It boasts 17% more power than any competitive ATV!
Both Outlanders feature a new air box, updated transmission cover, engine braking, and a larger radiator. They also receive major chassis upgrades, including the latest Surrounding Spar Technology G2 frame. The new frame features 16% fewer parts than the previous model and is designed to accept more than twice the force while providing twice the torsional stiffness.
The front suspension features what BRP calls a dive-control and anti-kickback geometry that positions the pivot points in space instead of simply adding stiffer shocks and springs. As well, five-way preload adjustable shocks with an extra inch of travel (9.0). Trailing Torsional Independent rear suspension is found out back and offers up 9.3 inches of travel. Connecting the machine to the ground are new cast aluminum wheels mated to 26-inch Carlisle Badland tires.
As for riding impressions, acceleration is incredible in the new Outlander 1000 and the engine produces absolutely awesome power and surprisingly nice manners at slow speeds. We found the front end felt a touch light, which makes steering a little tricky when you're on the gas. Also, with so much power on tap, the Outlander 1000 can be hard to control – especially for less experienced riders.
Our test rider felt the new chassis had a little more flex than the previous-year Outlanders, but thought it handled well, especially in the 800 package.
Next Page… Stretch Teryx and Middleweight RZR
Kawasaki Teryx4 750
While Polaris and Arctic Cat reach for the stars with their sport-specific UTVs, Kawasaki decided to go in a different direction with the new Teryx4 750. Sure, the Teryx4 is infinitely sportier than the multi-passenger UTVs of the past, but it's also far more inviting and comfortable. It's not designed to plow through the whoops in the desert like the new Polaris RZR XP 4 900, but it could be the perfect machine to take the family out for a fun day of riding or to entertain some friends on a weekend getaway.
Get the Flash Player to see this player.
When we first heard of the Teryx4, we were expecting a stretched out version of the regular Teryx. Instead, Kawasaki seemed to start with a blank sheet of paper. Sure, it's got the same 749cc V-Twin engine (though it produces a bit more power), but the chassis looks completely different. It's also quite compact with just an 86.1-inch wheelbase, compared to the 108-inch wheelbase of the Polaris Ranger RZR 4 800. That compact chassis makes the Teryx4 the best four-seater for the woods that we've ever seen.
Fortunately, Kawasaki didn't sacrifice rider comfort for the shorter chassis. The Teryx4 features incredibly comfortable wraparound-style seats and a good deal of elbow room. We really hope those seats make their way to the regular two-seat Teryx. The only obvious concession to its size is a fairly compact cargo box.
On the trail with four adults on board the Teryx4 chugs along effortlessly. In fact, you really don't notice the extra passengers. While it's not Wildcat or RZR XP sporty, it really is a fun machine to ride. If you spend more time dodging trees than leaping over dunes, this is probably the machine for you.
Polaris Ranger RZR 570
The Ranger RZR 570 is yet another example of Polaris blindsiding everybody. We had just finished checking out Polaris' 2012 lineup during a two-day ride in Northern Ontario when we were notified about this new RZR. We'll admit to being a bit mystified at first, as this modestly powered sportster seemed like a complete 180 compared to Polaris' latest offerings. After spending some time riding it, however, we began to understand.
Get the Flash Player to see this player.
Polaris outfitted the RZR 570 with a brand new, purpose-built ProStar engine. It still offers an impressive 45 horsepower and performance wise it's not all that far off from the RZR 800 and costs $1,300 dollars less ($9,999).
Helping the Ranger RZR 570 handle the most rugged trails is an all-new Independent Rear Suspension that provides 9.5-inches of travel in the rear. The front suspension features Dual A-arms with 9-inches of suspension travel. Preload adjustable Sachs shocks are found at all four corners.
Like its big brother, the RZR 570 is trail legal at just 50 inches wide and the engine is placed behind the seat to provide a low center of gravity.
On the trail the RZR 570 lacks a little acceleration compared to the RZR 800, but we think it may have more usable power. It seemed to handle better than its big brother and it can still reach speeds approaching 60 mph. It would be a great battle between the two 50-inch RZRs on a tight track.
Next Page… Major Changes for Brute Force 750 and ForeTrax Foreman
Kawasaki Brute Force 750 EPS
After a few fairly slow years, Kawasaki was quite busy in 2011. We've already talked about the Brute Force 300 and Teryx4 750, but Kawasaki also gave a major makeover to its flagship ATV – the Brute Force 750.
This machine was a landmark for Kawasaki as it's the first Kawasaki ATV to feature power steering. Kawasaki was the last of the major manufacturers to adopt this technology, but we say better late than never. It's probably our favorite ATV development over the past five years and we're throttled that it's now available on the awesome Brute Force 750.
The biggest Brute features Kawasaki's tried and true 750 V-Twin, but the folks at Team Green managed to squeeze a few more ponies out of this already potent mill. The power boost was achieved by further compressing the fuel charge, which is felt in the low end. As well, adjustments were made to the camshafts, exhaust and fuel mapping in the ECU to complete the power upgrade.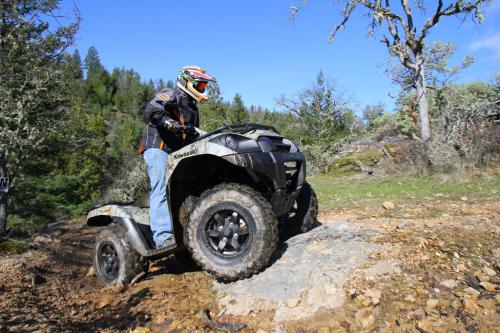 During our test we focused largely on the power steering and thought it could provide a little more assistance at slower speeds, but refinement will come with time. The ride was typically comfortable and didn't leave us feeling beat up despite taking on some rough terrain most of the day.
Honda FourTrax Foreman
Honda's FourTrax Foreman has long been a workhorse in the ATV industry. Honda's well-deserved reputation for building quality products has always been a hallmark of the Foreman and the updated 2012 model is no different.
Honda says its popular 4×4 can do even more after its redesign. The Foreman development team addressed three critical areas (appearance, power and comfort) during the design process. This Foreman is also significant because it was designed and built in the US, and came off the line at Honda's Timmonsville, SC, facility.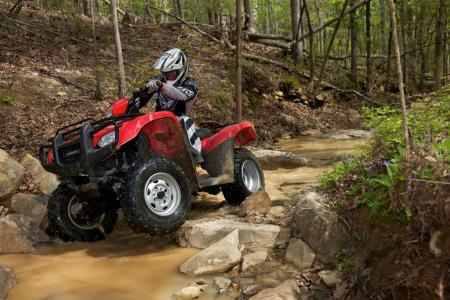 Updates for the 2012 Foreman include an engine with liquid cooling, a higher compression ratio and a fuel injection system. Also new is the rear suspension system with a steel swingarm and a single rear shock, larger dual front hydraulic disc brakes, multi-function LCD digital meter, body styling, and tires.
We found the new Foreman to produce a snappy low-end hit and we like the thumb throttle's quickness when it came to throttle response. However, first and second gears were quick to expire. Third gear seemed to be the sweet spot on the 4×4 as we could lug it in the super tight woods or overrev it before coasting in certain situations. This Honda isn't super fast or quick, but fourth and fifth gear kept us smiling and entertained. As for the suspension, it feels more utility oriented than sporty, but that was the likely the idea. This is a machine that will help you get the job done for years to come. Lucas Cooney
I have been working exclusively in digital media since 1997. I started out with TSN.ca, spending nearly nine years creating and editing content on Canada's leading sports website. I left to join VerticalScope, Inc., one of the world's largest online publishers, to start a number of powersports publications. While at VerticalScope, I've helped create and oversee content for a wide variety of different publications, including ATV.com, Off-Road.com, ArcheryTalk.com, Tractor.com, RVGuide.com, and many more.
More by Lucas Cooney
Published January 12th, 2012 3:57 PM
Top Brands
Popular Articles