6 Views
Top 10 ATVs and UTVs of 2014
December 23rd, 2015 9:27 AM
Share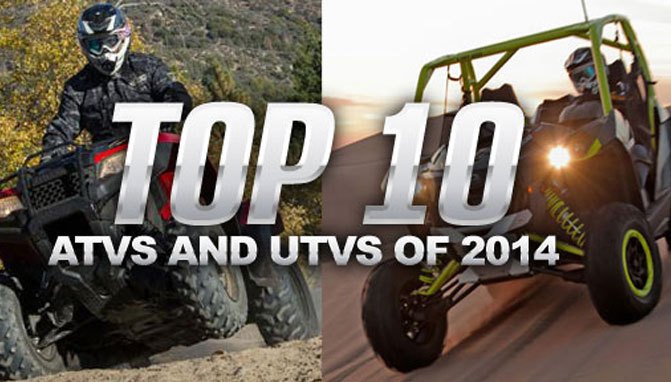 The world of off road has been turned on its head over the past 12 months. When choosing our 10 favorite ATVs and UTVs of 2014, we started with a list of 50 new and revised models and we hear rumors of more on the way almost weekly.
Getting on the gas with several marketing moves, the sleeping giant, Honda, has been very active. This gives us proof that the industry is beginning to wake up even more. We have seen an inflating trend in the working side of the industry as many companies start to focus on the bread and butter of what fills the bank account for them.
Hunting is a huge part of the Side-by-Side industry. Without hunters, ranchers, active farmers or land maintenance workers, we would not be seeing the evolution to the Utility side of this industry. In 2014, Yamaha brought out the Viking VI while rethinking and redesigning the way three people fill the front and back stretch of a working ride. And there are many more examples of manufacturers finding ways to make these machines better and more useful.
That same forward thinking is perhaps even more evident in the Sport segment. The fight for power and suspension travel supremacy continues. Consumers want to go faster and jump Mount Rushmore with little more than a tickle on the seat bottom upon landing. Using shock packages that are made for what seems to be full size trucks, companies like FOX, Elka and Walker Evans have seen a spike in sales not only to consumers but also to manufacturers who use their equipment on specific models.
As we look ahead to 2015, we are seeing an industry that is alive and well. This past year has been incredible for ATV and UTV fans. Now we'll take a look at our 10 favorite machines unveiled in 2014.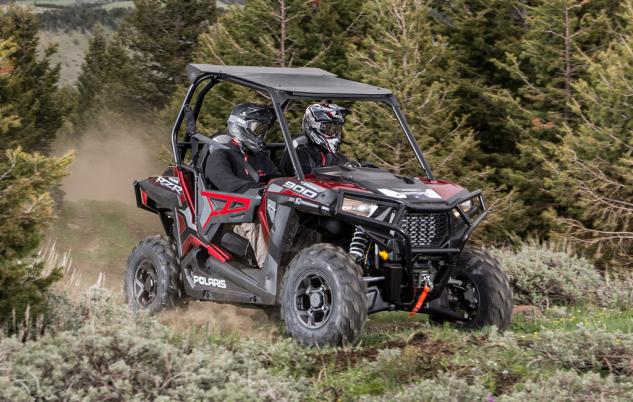 2015 Polaris RZR 900
The original 50-inch Polaris RZR 800 changed our industry forever, ushering in a new era of Sport UTVs. While it has since been surpassed by many machines when it comes to pure power and performance, Polaris sees the value in retaining a 50-inch Sport Side-by-Side. For 2015 Polaris replaced the dated 800 mill and installed a more powerful 75-horsepower Pro-Star 900 engine. Polaris says this is the fastest accelerating RZR of them all!
When you think of tight woods, the last thing you will want to do is spin the steering wheel ten times to make a corner. Polaris has narrowed this down to a two-spin lock-to-lock steering system for those really tight spaces – a 20% improvement in this area. Moving over trail obstacles, the RZR 900 provides 10 inches of travel both front and rear with eleven inches of ground clearance. Getting cool features like cabin lighting and factory installed ¼ doors just adds to the excitement.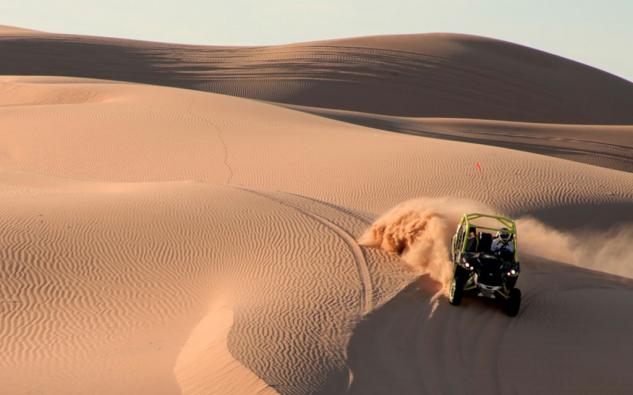 2015 Can-Am Maverick X ds Turbo
ATV.com Sport UTV of the Year
Sitting down into an extremely powerful vehicle will put a smile on any off road enthusiast's face, but perfect that power delivery to respond when the go pedal is grazed upon with the right foot and you will see a smile from ear to ear. This is what Can-Am has named its QRS – or Quick Response System. Can-Am's Maverick has always been about fun and with the improved clutch work as well as a small intercooled turbo, the 121-horsepower engine now leaps to a notch on the chart that clearly rules the roost for now. We say for now because we know that it will be just a matter of time before someone steps up and over. Or will they?
For the Maverick X ds Turbo, Can-Am brings not only more power but also redefined suspension and shock components. The large FOX 2.5 Podium RC2 shocks help bring the machine back into the comfort zone and give the ability to use the vast majority of the power available over many different types of terrain. With the wind blowing through the cab of the Maverick while listening to the Turbo whistle just behind us, we knew it was a ride that is sure to be a hot seller in 2015.
2015 Honda Pioneer 500
Not knowing what to really think when we laid our eyes on Honda Pioneer 500, it took getting behind the wheel to find the real focus for a stroll Honda's middleweight UTV offering. The fun factor is at an all time high in the Pioneer 500 and the paddle shifting on the steering wheel was probably the reason why. A fully automatic automotive-style transmission means you shift to a forward gear and go. Add in a smaller stature as well as the ability to work in very tight spaces gives the Pioneer 500 even more value. It takes a company looking for some new way to ride off-road to engineer a machine like this. This UTV is powered by a 475cc engine and can ride the majority of ATV trails thanks to its 50-inch width.
Honda's Pioneer 500 will also get the work done. The rear-mounted rack holds an impressive 450 lbs and the suspension is set up to make sure the load gets to its destination without hurting the ride. Honda also designed the Pioneer 500 to tow as much as 1000 lbs with a super low first gear. This is a fun and capable machine.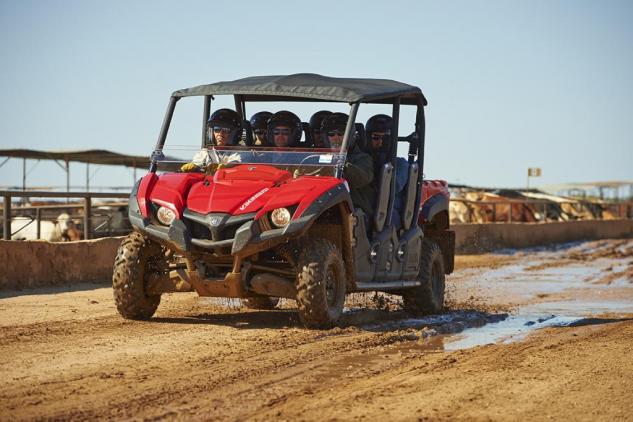 2015 Yamaha Viking VI
Yamaha stepped back into the Side-by-Side market in the summer of 2013 with the Viking and that vehicle allowed three riders to enjoy the adventure. In June of 2014 we were treated to the birth of the six-seat Viking with all of the same creature comforts. Getting three people seated next to each other with plenty of room to ride comfortably was as simple as sweeping the center seat rearward just a tad. Add in the clutter free floors and you can enter or exit from one side to the other without trouble.
Using a single cylinder 686cc fuel injected engine, Yamaha brought life to the hard working Viking VI. Improvements in cooling and air filtration keep this larger machine working. Yamaha's Ultra-Matic automatic belt-driven transmission brings known dependability that delivers a smooth ride for a long day's work. Getting the work done is just what Viking is all about. The cab will bring six workers while the bed will haul 600 pounds. If you need a dependable working machine that is also capable of hauling most of your friends out on the trail then we think you will like the Viking VI.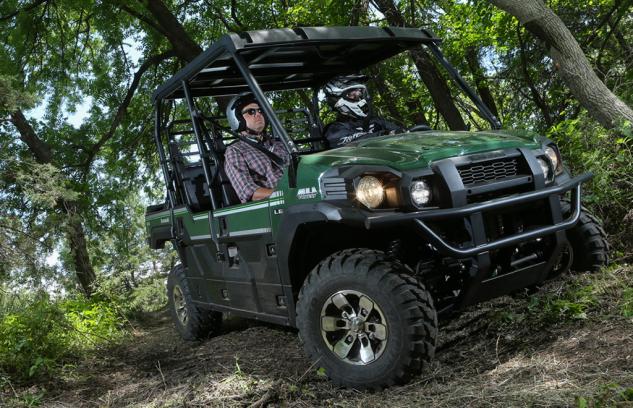 2015 Kawasaki Mule Pro-FXT
ATV.com Utility UTV of the Year
Probably the most innovative working machine delivered to the hungry consumers for 2015 was Kawasaki's Mule Pro-FXT. Renewing the Mule was something our industry had been waiting on for many years and this new version of the workhorse breathes new life to the Mule name for faithful Kawasaki owners. Getting up to six passengers to the job and hauling hundreds of pounds of cargo make this a tough cookie. The bed of this machine is what makes us look twice. The conversion, taking less than a minute, gives up valuable cargo space when it is needed. Putting 1000 lbs in the bed is possible and towing 2000 lbs is also something Kawasaki loves to brag about – and with good reason.
Kawasaki has installed a fuel-injected 812cc three-cylinder engine delivering 46 lb-ft. of torque that is liquid cooled and geared for the hardest day's work. Storage is at an all time high in the new Mule and if you are going to work a vehicle you need places for tools and cargo. Blend in power steering and a tight turning radius and you have a tough machine that can get in the narrow ranch gates without fear of getting stuck.
2015 Yamaha Raptor 700R
Yamaha's Raptor 700R has been the king of Sport ATVs for many years. While it has retained much from the original design, Yamaha regularly makes important tweaks to keep the Raptor at the top of the heap.
This machine is our favorite ATV in the dunes and quite frankly we do not care who knows it. For the 2015 model year, Yamaha managed to squeeze out 10% more power from the huge 686cc thumper, giving this beast hard charging low end grunt for miles. Cam profile, cylinder head modifications and exhaust changes all contribute to this increase in power.
Speaking of miles, the minor yet documentable changes in the shocks will get this machine closer to a more comfortable ride even still. Fine tuning the shocks by lengthening the spring makes a small but noticeable change. The King of the dunes continues its reign.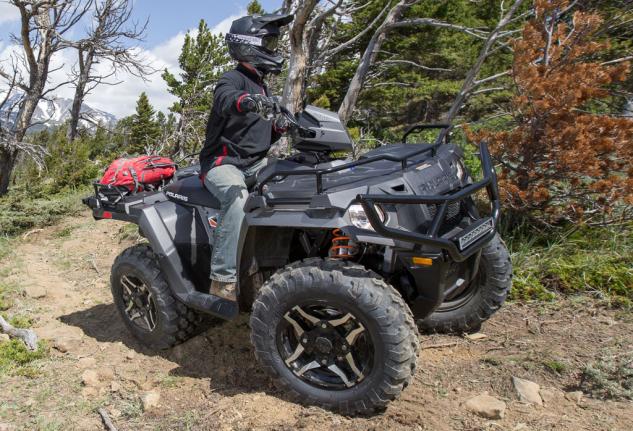 2015 Polaris Sportsman 570 SP
Getting out on the trail is becoming easier with companies like Polaris bringing tight ATVs to the market. It is also becoming more affordable. A totally redesigned Sportsman 570 SP brings new features to an incredible mid-bore package. Dual A-arm front suspension is just a small part of the new offering as you will also get the narrow seating arrangement and a 44-horsepower ProStar 570 engine to pump out the tire-spinning fun.
Whether you are a flatlander or a mountain goat, the Polaris 570 SP helps keep you in check with Active Descent Control (engine braking). The electronic power steering of the new 570 SP helps riders negotiate the tight woods and rougher sections of trail systems from coast to coast. The looks of this machine alone should get anyone's attention, just as it has ourss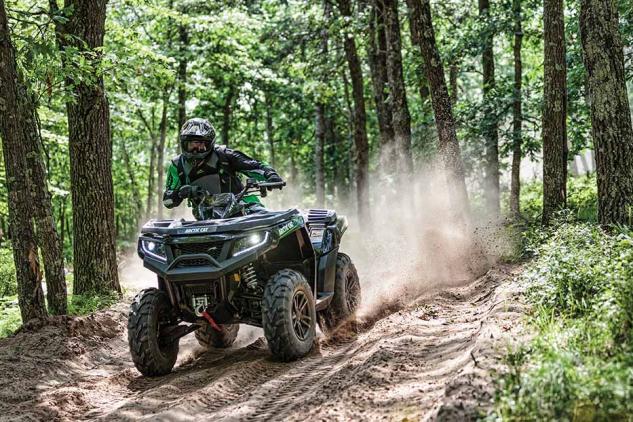 2015 Arctic Cat XR 550
Anytime a company begins a redesign of an ATV, things can get sketchy because you never know just how it will be received by the buying public. This year Arctic Cat gave its ATV lineup a new look. The 2015 Arctic Cat XR550 is just one of those machines we had the chance of viewing in person during 2014. Rugged front and rear Speed Racks incorporate steel tubing with anti-slip plastic covering to spread the load of your cargo.
With three different versions of this XR550 ranging from Standard, XT and a limited, you will have your choice and price range to choose from. Extras include alloy rims and even electronic power steering. This new breed of Cat is ready for your garage and that's why we like it. This feels like it will be a great addition to the Arctic Cat stable.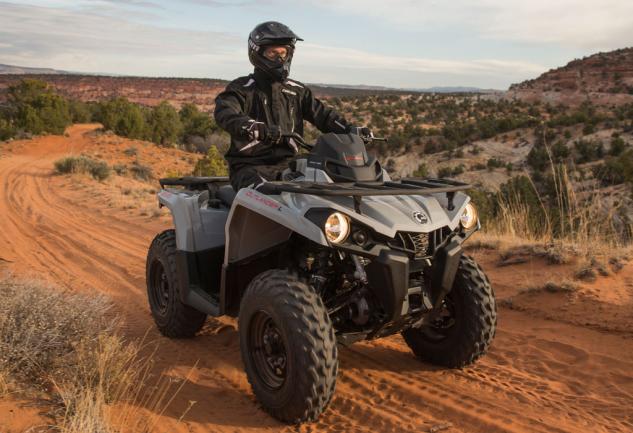 2015 Can-Am Outlander L 500
Getting an economical machine under the Christmas tree is a dream of many. With more wallet-friendly machines being stuffed into the industry, Can-Am is among the givers for the 2015 model year. Having been thought of by some as the most expensive ATV manufacturer in the market for years, Can-Am has set out to prove that it offers value and the 2015 Outlander L models go a step further.
With a 44-horsepower Rotax 500cc single cylinder engine, the Outlander L is positioned with price in mind. If you look closely you will also see the five-year extended warranty that is included in the $6,399 price tag. If you need the Tri-Mode Dynamic Power Steering it is available for $900 more. If you need a no frills ride with only the essentials, then the Outlander L may be for you.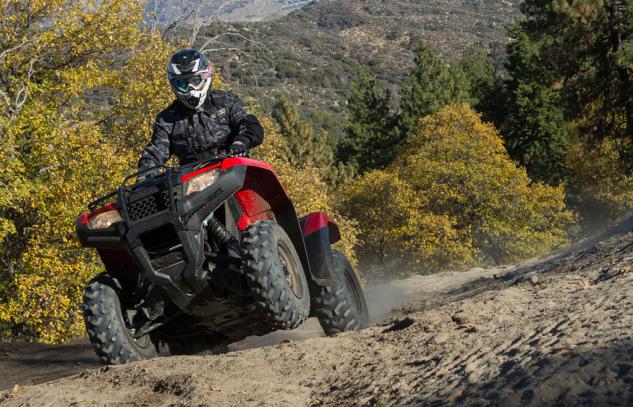 2015 Honda FourTrax Rancher
ATV.com ATV of the Year
Honda treated us to a new look and design for the Rancher 420 in the 2014 model year, but the 2015 model year brings even more to get excited about. Independent rear suspension is now offered on the Rancher 420 and if you need to have a solid rear axle, it is still offered as well. The added suspension travel front and rear make this machine loveable. Nine inches of ground clearance also helps the trail become friendly. Honda's Rancher gives up a great ride and we love it.
Honda is known for reliability and that is probably why the automotive-style transmission Honda owners have become familiar with is still putting the power to the rear wheels. We were more than excited as Honda ramped up its production of machines over the last year as this means we will see even more options in the market.
Published December 24th, 2014 12:08 PM
Top Brands
Popular Articles