5 Views
2015 Arctic Cat ATV and UTV Lineup Preview
July 31st, 2015 12:04 PM
Share
We're committed to finding, researching, and recommending the best products. We earn commissions from purchases you make using links in our articles. Learn more here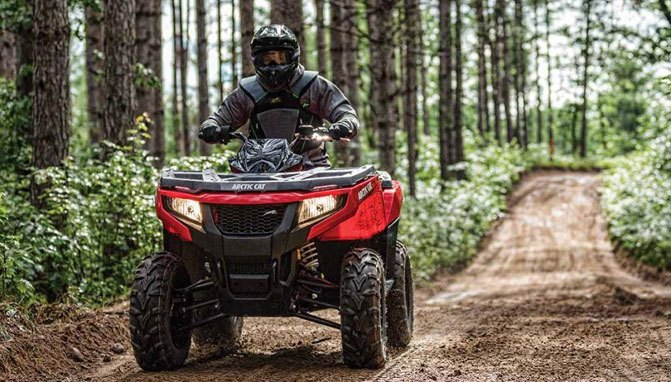 New XR ATV line and 60-inch Wildcats hitting dealerships
We knew Arctic Cat had big plans for the 2015 model year when we were invited to its Las Vegas Dealer Show just to see the off-road machines. We did not leave disappointed, as Arctic Cat unveiled a brand new XR ATV line, new 60-inch Wildcat Sport Side-by-Sides and redesigned Prowler Utility Side-by-Sides.
Arctic Cat XR ATVs
Arctic Cat has been focusing much of its attention in recent years to the Wildcat lineup, and rightfully so. That's why it was surprising to see such a major update to Cat's family of ATVs with the new XR series.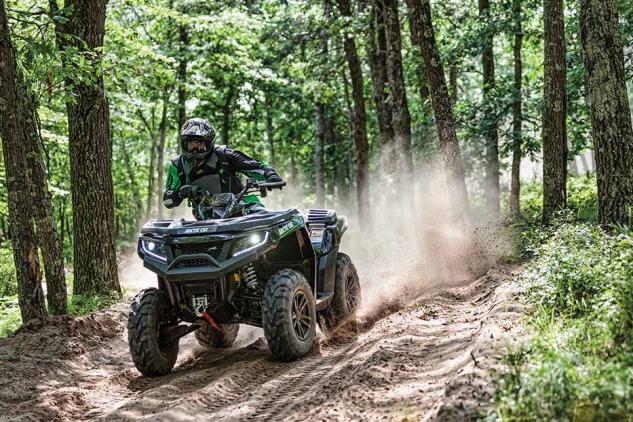 Arctic Cat comes to market with its new XR lineup of ATVs for 2015.
Blessed with a totally new look, these ATVs benefit from sleek profiles that make them stand out. Upgrades include newly redesigned front and rear racks, digital sport gauge package, new suspension geometry and three different headlights with varying levels of intensity. As well, Arctic Cat boasts its new XR ATVs are quieter by eight decibels compared to prior year Arctic Cat ATVs.
COMPARISON: Read our review of the 2010 Arctic Cat 700 S 4×4
In and effort to reduce reach and increase comfort for the rider, the steering angle is moved rearward and down. With several easy to access compartments, serviceability promises to be a cinch. It appears that you can easily get to crucial elements such as the fuse box, battery or paper air filter when service comes knocking.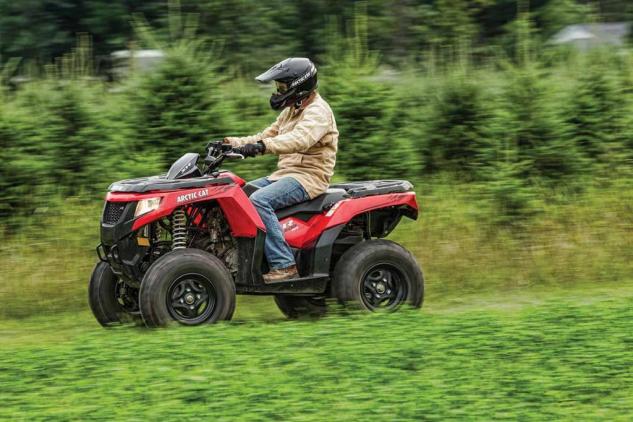 Steering angle has been moved rearward on the XR models, making for a very relaxed and upright posture for the rider.
If you need storage then you have it on the XR series. The new SpeedRack II system features composite construction with a tube steel base to make the racks stronger and sturdier. The SpeedRack II system can carry up to 100 pounds in the front and 200 pounds in the back.
Available with 443cc, 541cc and 698cc engines, Arctic Cat's XR ATVs should serve a wide variety of needs and budgets. As well, Arctic Cat offers Base, XT and Limited packages for each engine option.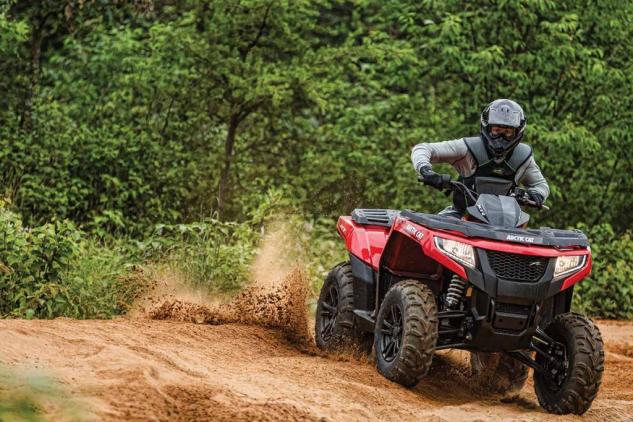 XR ATVs come with three different engine sizes, each with three amenities packages.
Each machine shares the same frame and chassis, with a 52-inch wheelbase and overall length of 83.4 inches and width of 48.5 inches. As well, each model boasts 10 inches of suspension travel, 12-inch steel wheels (aluminum on XT and Limited packages) and 25-inch Duro Kaden tires.
Arctic Cat Wildcat Sport
Now we move on to some even more exciting news for those of us who love speed, live on the east coast or where the trees grow tightly together. The original Arctic Cat Wildcat featured long travel suspension, loads of horsepower and a wide chassis. This model was really best suited to wide open ranges of desert land. But for 2015 Arctic Cat has developed a 60-inch wide Wildcat Sport that will get the attention of many woods riders or racers around the country.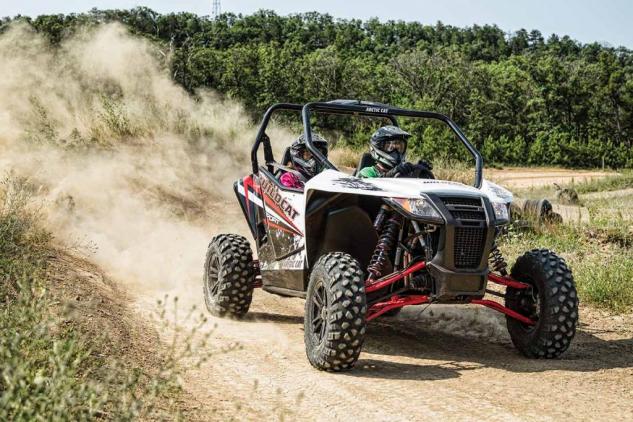 The 60-inch wide Wildcat Sport uses the same 700cc engine found in the 50-inch Wildcat Trail.
The standard Sport package gets the owner a 60+ horsepower, 700cc Twin cylinder, four-stroke, liquid cooled engine and compact drivetrain all suspended by new JRI shocks. The Team industries Rapid Response clutch keeps putting the available power to the ground and is a reliable proven system. With 12.6 inches of suspension travel in the rear and 12.2 inches up front, this ride should be very comfortable at speed.
COMPARISON: Read our review of the 2014 Arctic Cat Wildcat Trail
Soaking up the big bumps are the JRI ECX-1 shocks. These come on the Standard and XT package models, but when you get to the Limited Edition Wildcat Sport these are replaced with Elka Stage 5 rebound and compression adjustable shock absorbers. This is a little confusing and seems to send a weird message as to how or why Arctic Cat would use so many different shock manufacturers in one line of machines. The JRI shocks also have 72 points of adjustment and that could also overwhelm the average consumer. Suspension travel on all three Sport models is 12.2 inches up front and 12.6 inches out back.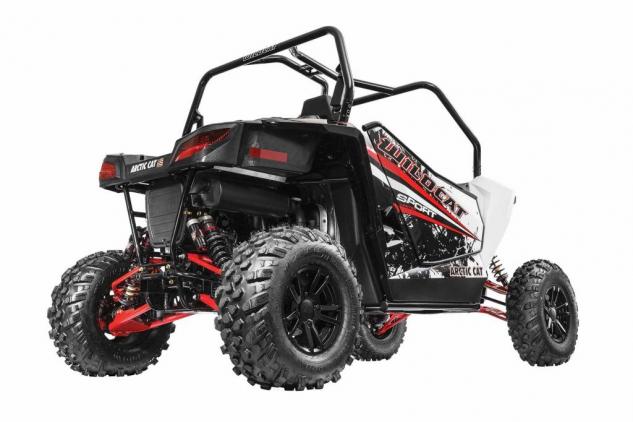 JRI ECX-1 shocks are found on the Base and XT Wildcat Sport models, while the Limited model (pictured) benefits from Elka Stage 5 shocks.
Front and rear sway bars control body roll and make tight high speed cornering manageable. The 13 inches of ground clearance on the Wildcat Sport gets you over most trail obstacles with ease and if the trail gets rutted out we're sure this amount of ground clearance with the available articulation of the long travel suspension will only make the ride that much more exciting.
One key feature that we noticed and liked immediately are the larger doors on this Sport Wildcat. They seem to offer greater protection and for a larger rider so they do not have to worry about the steel tube rubbing against their left knee all day. If you want to pony up the coins the Limited Edition will also get you power steering.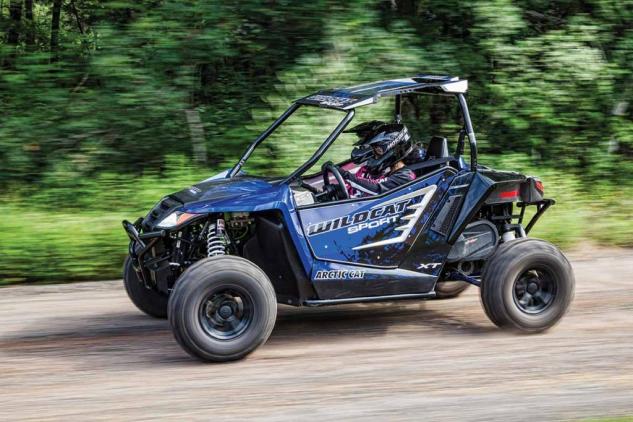 We came away impressed with the doors on the Wildcat Sport, which seem to offer more protection for rider and passenger.
The Base Wildcat Sport comes with 12-inch steel wheels and 26-inch Carlisle Trail Pro tires, while the XT and Limited packages benefit from aluminum wheels.
Arctic Cat Prowlers
Arctic Cat also brought its Prowler lineup to Las Vegas to show off some design changes – notable to the cab. Arctic Cat's Utility Side-by-Side lineup has remained the same for many years up, so an update is welcome.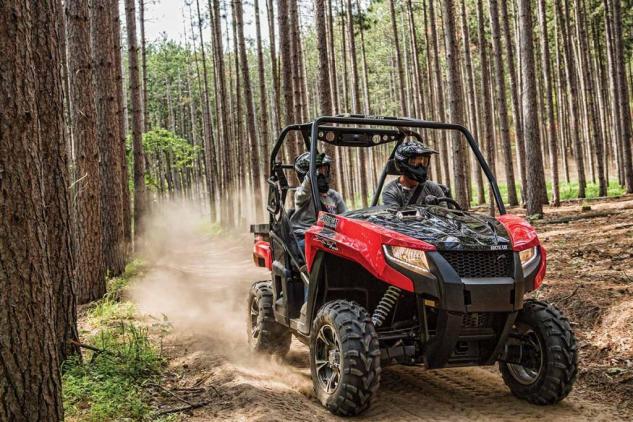 Arctic Cat gave its Prowler family some design upgrades for 2015.
The new 2015 Prowler gets an in-cab redesign that seems to make the controls easier to use. A new dash-mounted shift lever is a great step as the operation is right in front of the driver and easily reached. It is also really simple to determine what gear you are in. Mounted in the dash is Arctic Cat's new Power Sport Digital Gauge, which keeps the operator well informed.
Key items that will be offered on the 2015 Prowler are a Duramatic automatic transmission, rear two-inch receiver hitch and 10 inches of ground clearance. For 2015 a new 22-gallon under hood storage compartment gives you plenty of room to carry your essentials. The 700 XT and 1000 XT Prowlers will come with a redesigned Electronic Power Steering unit for the tougher trails. Power steering, in our opinion, should be offered on every Side-by-Side.
We like the new cab layout and are excited to see just how it works on the trail and around the farm. Cat says the Surlyn body panels are even more scratch resistant and the cargo bed seems to remain the same with a minor change in trim work.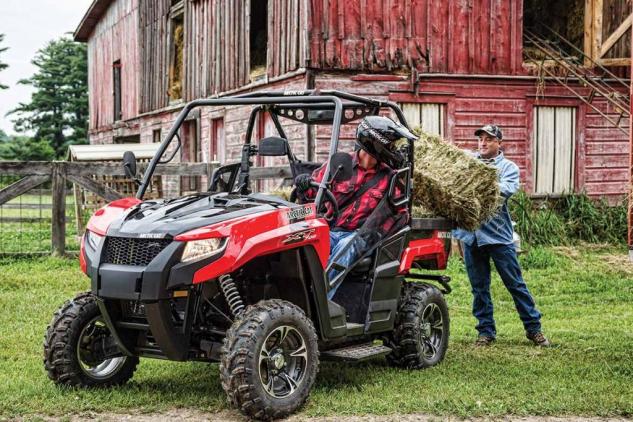 Surlyn body panels promise to be more scratch resistant.
Arctic Cat left the chassis basically the same as previous models, save for minor updates for strength and reliability. Prowler engines are designed in Thief River Falls, Minn. and built in St Cloud, Minn. For 2015, Arctic Cat Prowlers are available in 441cc, 542cc, 698cc or 951cc (V-Twin) variants.
COMPARISON: Read our review of the 2014 Arctic Cat Prowler 700 HDX Limited
The only model of Prowler that does not change in appearance is the Prowler HDX, which is Cat's ultimate working Side-by-Side. It does still have power steering and also some air filtration changes that help the performance. Addressing problematic air box cover seating issues was key for the engineers in 2015. Using a pre-filter that is located right behind the passenger keeps the bulk of the dust and dirt at bay. Using FOX float shocks the HDX gives up the plush ride needed for a hard day's work under heavy loads.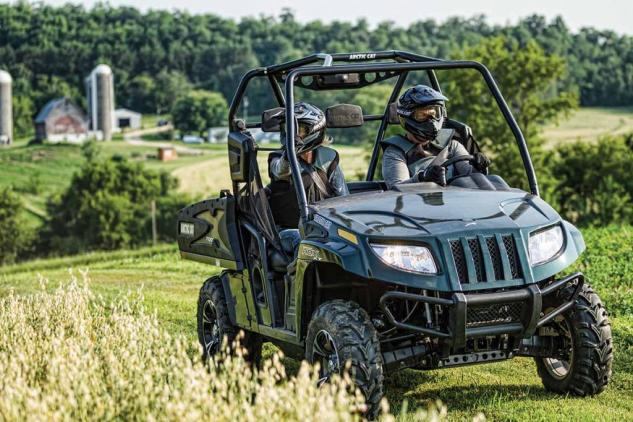 The Prowler HDX remains largely unchanged for 2015 save for some air filtration improvements.
Conclusion
The limited time we had at Arctic Cat's Dealer Show was nice and the new products offered by Arctic Cat are definitely exciting. Not just because they are new to the industry, but because it is refreshing to know that manufacturers are actually starting to crack open the shell of development and breathe new life into the world of off-road fun. We're sure we will get to ride these new machines soon and we will bring you all the details on how they stack up. Published September 9th, 2014 12:00 PM
Top Brands
Popular Articles