1 View
Best ATV Fender Bag Options
April 13th, 2021 11:07 AM
Share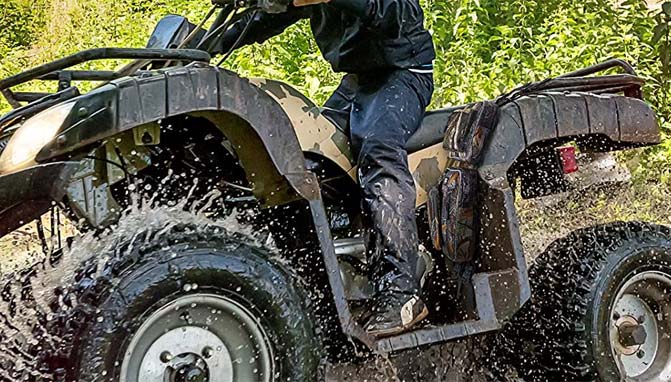 Keep your light gear safe and secure while you ride
There aren't many, if any, instances where an ATV rider wouldn't benefit from having an ATV fender bag installed on their ride.
Even the most hardcore fan has to admit that most ATVs bear an inherent flaw by the very nature of their design – there is simply not much on-board storage. Oh sure, some of them have a little flip-up compartment that's the perfect size for a credit card or those moving violations you keep accumulating but, in real terms, there isn't much space on these things in which to pack all yer stuff.
As always, the aftermarket rides (pun firmly intended) to the rescue. An ATV fender bag can be just the ticket to retain the mobility of your ATV while also permitting the rider to take along more than just the clothes on their back. We've assembled a variety of them here to give you an idea of what's on offer.
Table of Contents
1. Editor's Choice: ATV TEK Arch Arch Fender Bag
The ATV TEC Arch Series fender bag is the most expensive option on our list, but that extra cost comes with improved materials. The bag is made of Tarpaulin, which is a waterproof material that also happens to be resistant to mold and fading from sun exposure. The large top pocket is big enough to hold a water bottle and a camera or a pair of binoculars - all accessible with the click of a buckle. The bottom pocket is a great spot for your lunch or can be a spot you can stuff some extra gloves and goggles.
You attach the ATV TEK Arch Series to your ATV's front rack, but it can just as easily hook up to your UTVs ROPS right behind the driver or passenger seat if you want more storage in your Side-by-Side vehicle.
2. Best Value: Kemimoto ATV Fender Bag
If you're looking to store everything from a few tools to a pair of glasses, this ATV fender bag from Kemimoto is just what you're looking for. This setup also features a detachable pouch perfect for holding keys, cell phones or anything else you might want to take with you when you're not riding your ATV. As theft prevention, that's about as good as it gets.
In addition to carrying your extra personal belongings, these ATV fender bags also feature reflective strips that make you more visible in dark or inclement weather for another level of safety. Installation is simple without the need of any tools. Simply use the two quick release straps on the upper and lower ends of each bag and secure it to the front or rear fenders of your ATV. The whole thing only weighs about 2 pounds and is approximately one foot tall by 9 inches wide by 4 inches thick, giving you plenty of extra storage.
3. American Trails ATV Fender/Saddle Bag
The American Trails ATV fender bag with is a bit different than what you'd normally see in an ATV fender bag. It is uniquely designed to mount on various configurations of fuel tanks - not the ATV fender itself, though it is partially supported by those fenders, especially when laden with gear. Its quintet of adjustment straps insures a solid fit on most machines.
This setup is actually three bags in one convenient package. A main pack sits directly ahead of the rider atop the fuel tank with twin saddlebags. The square side packs are about 9" square and 2" thick, while the center one is 7.5" square and almost 4" thick. The entire assembly only weighs about a pound, and real-world customers claim it has an excellent fit and keeps their gear safe and dustproof.
4. Everrich 2 Pack ATV Fender Bag
This 2-pack of ATV fender bags from Everrich feature two lined pockets and a pair of mesh pockets for the ultimate way to organize your stored items on your ATV. The bags are constructed from 600-denier polyester fabric with durable zipper closures, making the lined pockets of the ATV bags perfect for securing your sensitive electronics and other personal items. The mesh external pockets allow for quick access to the items that you're less worried about being affected from dust, mud or anything else you'll experience on the trail.
Perfect for mounting on either the front or rear fenders of your ATV, and easily secured using integrated mounting straps, these ATV fender bags are extremely popular on Amazon with positive ratings of 4.4 out of 5 possible stars from hundreds of reviewers and are available in black or camo.
If you're looking for an additional way to hold tools, cell phones, trail cams or anything else you don't want to fall out of your pockets, these best ATV fender bags from COCO can't be beat! Each bag features 2-lined pockets for your sensitive items and 2-mesh pockets for everything else that you're not worried about getting wet or dirty. This is a big brute, with the main pocket measuring 7.5 inches x 3 inches x 11.5 inches. The secondary upper pocket is about half that depth.
Securing these bags is a cinch with the use of integrated securing straps, allowing you to quickly install them on either front or rear fenders without any cutting or drilling of your fenders. If you think you might have seen these already, you're probably not wrong as some of these different brands look entire the same, but reviews may vary.
6. MFC Universal ATV Fender Bag
If you're looking for a set of modular ATV fender bags, the MFC Universal setup fits the bill. Each of the packs are removable and can be slung over the shoulder with the included shoulder straps. This makes it easy to take your gear with you when you are away from your ATV.
These are the largest bags on our list, meaning that they also carry the most gear which can add a significant amount of weight to your fenders if you're the type of rider that needs to take everything but the kitchen sink with them on a ride. They mount to your ATV using simple straps, but some customers have taken their own approach to mounting them on their ATV. One reviewer added brass grommets to the backing plate then utilized plastic push rivets to mount the bags to the ATV fenders. It's a smart adaptation that'll keep the thing from flopping around, but you can determine what works best for you.
We are committed to finding, researching, and recommending the best products. We earn commissions from purchases you make using the retail links in our product reviews. Learn more about how this works.
How do you attach an ATV fender bag?
With that note about successful modifications ringing in our collective ears, now would be a good time to emphasize that buyers of these accessories should completely read the instructions and make sure they mount the bags properly. Some well thought-out ingenuity of your own rarely goes astray, however. In any event, make sure the bag is tightly secured and not moving around every time you hit a bump or take a sudden turn.
Are there weight limits to an ATV fender bag?
Absolutely - and it is important that you follow them. While some armchair "experts" will say the listed weight limits are there simply to placate a bedwetting lawyer, there's a solid chance that overloading these ATV fender bags will result in a torn bag or possibly breaking your fenders - meaning spilled items and a ruined day. Besides, it's smart to pack light on a trip.
Any other considerations?
Make sure the ATV fender bag you're buying will fit your machine. Some of them are sized perfectly for their intended make and model while others are a bit more of a universal design. To put a twist on a carpentry phrase - measure twice and buy once. Whatever you select, make sure it is securely attached and not posing any threats to you or other riders by flapping like a leaf in the breeze and causing a hazard.
Published April 13th, 2021 11:07 AM
Top Brands
Popular Articles