84 Views
Best Polaris Ranger Mirrors
August 4th, 2022 3:19 PM
Share
We're committed to finding, researching, and recommending the best products. We earn commissions from purchases you make using links in our articles. Learn more here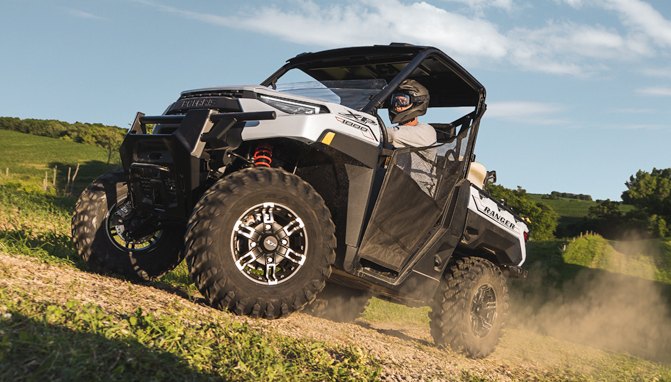 Expand your vision with a set of quality mirrors
Picking up a set of Polaris Ranger mirrors is a smart spend of money if you're using the rig for anything other than puttering around the farm at 5mph. Even then, it doesn't hurt to have good views astern when backing the Ranger into your barn after a hard day's work.
We've assembled a gallery of both side- and rear-view mirrors in this list, since customers who buy one generally tend to go for the other. Yes, there are plenty of arguments that side-view mirrors on a UTV greatly increase its width, but not everyone is trying to wedge their Polaris Ranger through tight woodland trails. Even if you are, most of the mirrors on this list are foldable – both forwards and backwards. The latter would have been nice on your author's Dodge Ram when he caught the side of a warehouse door while backing out into a parking lot.
Here is a list of our favorite options. We wish you better luck than that old Ram.
1. Editor's Choice: Xprite Aluminium UTV Side Rear View Mirrors
Before you protest that these things are meant for the gonzo RZR line of rigs, they do indeed fit the Ranger (we checked the application guide before including them on the list). Aluminum alloy housing and weather sealed caps are designed to keep out water, dirt, and debris. They are also equipped with rubber vibration isolators for keeping a clear image and the mirrors from sliding out of place during spirited wheeling. You've noticed the lights by now; there are nine LEDs on each mirror that helps illuminate the path ahead but also allows you to see what's behind and off to the side. Pick up a cool dashboard switch for these things while you've got your credit card out, okay?
2. Best Rearview Mirror: Xprite Interior Aluminum Rearview Mirror w/ Interior Lights
If you're looking for the best rearview Polaris RANGER mirrors, your list of options is endless. Aside from price and housing material, there isn't really anything that sets them apart to make you choose one over the other. That is until you see this rearview mirror from Xprite. What makes this rearview mirror different is that the aluminum housing not only holds their specially designed convex glass mirror, that offers a 180° wide angle view to catch all the action behind you, it also houses two high-intensity white LED light strips to illuminate the cab of your RANGER in the darkest of night.
The Xprite rearview mirror is available in 9", 13", and 17" widths and the universal mounting clamp can be installed on roll bars that range in size from 1.75" to 2" in diameter, making it perfect for any year/model Polaris RANGER. To make installation even easier, this kit also includes a plug-and-play wiring harness complete with labeled and backlit rocker switch that looks perfect on the dash of your RANGER. Hands down one of the best rearview Polaris RANGER mirrors you can get.
3. Best Non-Illuminated Side Mirror: Chupacabra Offroad UTV Side MIrrors
When it comes to UTV mirrors, Chupacabra Offroad delivers some of the best products you can ask for. While you're probably more familiar with seeing their mirrors high-performance UTVs, it doesn't mean that they aren't a good option for Polaris RANGER mirrors. These off-road side mirrors offer plenty of visibility behind you since they measure 4" wide and just over 7" tall giving you a massive viewing area with the shatter-proof, tempered glass mirror lens that is protected by an impact-resistant ABS housing. The mirrors also come with clamps that accommodate tubing sizes that range from 1-5/8" to 2" in diameter, making them some of the best Polaris RANGER mirrors regardless of what year or model it may be.
These mirrors are capable of withstanding plenty of abuse on the trails with their breakaway housing features and anti-vibration design. Throw in a lifetime warranty against defects, and you've got some of the best Polaris RANGER mirrors you can get.
4. Best Illuminated Side Mirror Runner Up: Seizmik Pursuit Night Vision Series Side View Mirror
This is a snazzy pair of Polaris Ranger side mirrors, with their housings made from aluminum and reflective surfaces done in a convex pattern to provide a super-wide viewing range and image stability. They fit the Polaris ROPS (roll-over protection system) for easy installation on your Ranger. The glass is shatter resistant - not shatter proof, ok? - and a low-profile design minimizes interference with other attachments. They come equipped with white and green LED chips to provide peripheral illumination in the mid-forward and side ground areas around the UTV. Night vision mode may be used for better visual acuity at lower light levels since human eyes adjust to surrounding darkness more quickly while using green light. This mode also helps avoid attracting attention from game and wildlife. The white light mode is used for maximum illumination, providing bright lighting around the vehicle when needed.
5. Best Budget Rearview Mirror: Ranger Rear View Mirror, Convex Wide View
If you're still not sold on the idea of having a couple of ears sticking off the side of your UTV, perhaps a Polaris Ranger rear-view mirror will be more up your alley. The mirror is made of real high-definition glass that can offer a non-distorted and ultra-clear view to reduce blind spots. Measuring 9 inches by 5 inches, its surface is convex to provide a wide view astern. The mirror mount height can adjust up and down to meet various height requirements, should you be the type that lends your UTV to other people. Do know that this mirror only works on the Polaris Ranger factory present drop down mounting tab, not the roll bar style, so check your application before ordering.
6. UNIGT Ranger Side View Mirror
This set of side-view mirror was customized design for the Polaris Ranger with the roll bars that are not round. Instead, it affixes to the clip bracket that the door net clips are mounted, making them the perfect solution for those who are running base models of the Ranger like the 570-workhorse trim. The mirror mounting brackets are made of high-quality steel, while its reflective surface is made of high impact abs housing with shatter-proof tempered glass. They are just over 5 inches wide and exactly 7 inches tall.
7. Maverick Advantage Folding Side View Mirrors
Right off the bat, we'll note several real-world customers complained these mirrors aren't that great when paired with factory Polaris Ranger cab full doors such as those found on the mighty Northstar edition. While they do indeed fit, the door's contour and glass position mean certain drivers might not be able to see them without an awkward turn of their head, especially on the passenger side. Nevertheless, many customers are happy with these mirrors, made of decently robust materials and are easily installed or removed thanks to smartly designed brackets.
Additional Resources
Recent Updates
August 4, 2022: Removed promoted product recommendation.
September 22, 2021: Added a promoted product recommendation.
October 22, 2021: Added products (Chupacabra Offroad Mirror, Xprite illuminated rearview), ranked product and updated product descriptions, added FAQ qes
We are committed to finding, researching, and recommending the best products. We earn commissions from purchases you make using the retail links in our product reviews. Learn more about how this works.
How do you mount side view mirrors on a Polaris Ranger?
Some are installed directly onto the Ranger's ROPS cage, while others are designed to be mounted to existing tabs or play well with full doors. Just about every variant of Ranger mirror in the aftermarket will come with a set of brackets, meaning the bad old days of breaking out the power drill and tin snips to get things properly aligned are firmly in the past.
Will my rearview mirror work with an aftermarket windshield?
Some will, yes. Look for mirrors that mount inside the cab, since putting them on a roll bar likely won't work in most scenarios involving an aftermarket windshield. In fact, a solid number of sellers specify 'not for round roll bar' in bold ALL CAPS to distinguish the two and presumably ward off a deluge of returned items or upset customers.
Is the quality of the glass a big factor when purchasing a mirror?
Definitely. When looking for mirrors, you definitely want a mirror glass that is shatter-proof and tempered, but also offers minimum distortion. After all what is the purpose of getting mirrors if you can't make out what is going on when you're looking at them. Published June 19th, 2021 5:09 AM
Top Brands
Popular Articles