1 View
2015 Arctic Cat XR ATV Lineup Review
September 10th, 2015 11:49 AM
Share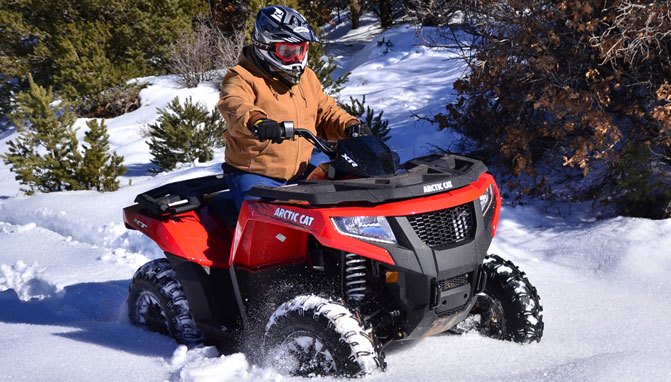 Cat's best ATVs yet enhance comfort and safety
I love the Rocky Mountains. This month, I spent one day with Arctic Cat's engineers to learn about and ride its model year 2016 snowmobiles in Island Park, Idaho. Following this, I then met with Arctic Cat's engineers to learn about and ride its model year 2015 XR ATVs in Moab, Utah. I love my job.
Over the course of these days, I witnessed Arctic Cat's mandate to produce recreational products that are designed to give consumers their money's worth.
Back to the topic at hand.
Last summer, the ATV.com long term-evaluation crew set out to uncover the likes and dislikes of Honda's Rincon, Yamaha's Grizzly, Kawasaki's Brute Force and Suzuki's King Quad; all high-end 700cc class dirt crawlers. After riding Cat's XR 700 ATV, we would love to wage a dirt battle among the 700 XR and the aforementioned Japanese heavyweights.
The Limited XRs come equipped with a Warn winch. Note the 11 inches of ground clearance and built-in skid plate.
Also, we would like to see how the XR ATV fares against the other domestic ATV makers, specifically the Polaris Sportsman 850 (a much bigger bore ATV) and Can-Am Outlander 650.
The XR ATVs from Cat are available in three different packages: Standard, XT and Limited.
1) Base – Molded body panels, powder coated steel wheels and halogen headlamps
2) XT – Automotive-type paint, aluminum wheels, electronic power steering and halogen headlights with lightbar
3) Limited – Same features as the XT, with the addition of a 3,000-pound Warn winch, front and rear brush guards, and LED headlights with lightbar
To add even more choices to the mix, Arctic Cat offers the XR with three different engines: single-cylinder four-stroke 500 (443cc), single-cylinder four-stroke 550 (545cc),and sngle-cylinder four-stroke 700 (695cc). All three are EFI fed – electronic fuel injection – and are domestically built.
With the side panels removed, the XR opens up to expose the motor and exhaust. Stainless steel heat shielding reduces radiant heat dumping down on the floorboards.
Customers can purchase the 550 and 700 in Standard, XT and Limited. However, the 500 comes only as a Standard model. Cat's XR-chassis ATVs have been on market for about seven months.
Ergonomics
The XR is built for the long ride. To keep the ATV rider in a more neutral position, Cat positioned the steering post at an angle to reduce reach. The XR features a two-inch narrower foot position, which compliments the steering post angle. Cat also moved the motor forward to increase foot well area. The XR's front and rear balance ratio is 51 front/49 rear; nearly perfect.
COMPARISON: 2014 Japanese Big Bore Utility ATV Shootout + Video
Reducing rider fatigue was one goal the XR set to achieve. The neutral position with less reach keeps arms and shoulders from tiring.
Let's Be Open
Shade tree mechanics will like the XR chassis. As we witnessed Arctic Cat's ATV designers pull the panels off the XRs, we saw wide open spaces – a near-naked ATV body like none other. Arctic Cat made the XR DIY-friendly by giving it easy access to engine components, such as the air filter, engine, exhaust, and exhaust manifold. For ease of service, the air filter is a paper filter with a water-resistant sock covering. The filter is free flowing, inexpensive and has a high life-cycle rate that matches foam filters.
Under the seat, the paper air filter, battery, tool kit and small storage area are easily accessible.
Cat also provided easy access to the under-seat battery, fuse compartment, and engine coolant reservoir.
Easy Steering
The XR's variable assist electronic power steering (EPS) provides just-right feedback to the hands (for XT and Limited models only). As speed increases or drops, a torque sensor monitors the driver's handlebar input with suspension input (terrain feedback) and adjusts sensitivity, as needed, to match speed, handlebar swing and terrain bounce, if present. The EPS is a brushless motor with a built-in diagnostic monitoring system that communicates with the main handlebar instrument pod.
When the XR's differential lock is set, the ATV will creep up most gnarly rock faces.
What did we learn from rotating the XR's bars? Well, simply, it works. In a slow crawl up and over rocks and boulders with large cracks and gaps, the EPS sped up by giving a light and airy feel to the bars. This allowed us to easily manipulate the vehicle over, around or through the rock fissures. Likewise, the EPS slowed down when we let the single cylinder motor open up its lung for some high-speed booty hauls. Handlebar resistance, in this case, was proper.
Transmission and Differential Lock
The XR comes equipped with Cat's Duramatic Transmission, which is a continuously variable transmission (CVT) that uses a wet clutch inside the engine which in turn maintains constant belt engagement (pressure) for utility applications, such as towing. As Arctic Cat reports, the "CVT…responds to vehicle speed, engine RPM and load. The three main components are a primary clutch, secondary clutch (driven clutch) and belt. The primary clutch is always engaged, thus reducing belt wear."
The XR's differential lock is a fully mechanical engagement system that the XR driver can engage as needed at any speed. Its toggle switch on the right side handlebar is easy to manipulate.
Storge
We all like to haul stuff. The XR has 1.44-gallon rear storage compartment which is mostly water- and dust-resistant. Under the seat next to the battery is an extra storage box. But, high-mileage riders will appreciate the XR's SpeedRack II system. The front and rear high-strength tubular racks have a textured surface, similar to a Rhino Liner. The SpeedRack II has many points to strap down bags, boxes and a mule deer.
COMPARISON: Read our review of the 2014 Suzuki KingQuad 750 AXi EPS + Video
Suspension
The XR's suspension – front and rear – is known as "Ride-In-Suspension." According to Morris, the XR's suspensions were dropped to lower the ATV's center of gravity. Meaning, Arctic Cat lowered the profile and seat deeper into the chassis without sacrificing ground clearance and suspension travel.
The double A-arm front and rear suspensions work in tandem to keep power applied to the wheels, keeping the XR as level as the terrain will allow.
The XR's front and rear suspensions are both double A-arm designs with 10 inches of travel. Ground clearance is 11 inches.
Ride Impressions
As I took to the high rolling rocks in the lovely Moab, Utah desert, I had just spent four days hammering the slopes and deep-wooded mountains in Island Park, Idaho on some prototype Arctic Cat snowmobiles; my head was tied to long tracks and skis. So, as I climbed a rock face on a 550 XR XT, the front wheels dropped into a crevasse – I was creeping in 4WD High. The front wheels spun and the XR 550 began sliding down off the big boulder following its curve, when Arctic Cat's ATV Engineering and Product Manager, Michael Morris, pulled alongside (in total control of his XR 700 XR Limited) and hollered, "Allred, diff lock." Duh. By lifting and sliding the toggle to the left, I locked in the 550's front drivetrain and pulled up and out the sharp-edged crack and rolled over the rock. How simple it was. How sweet and uncomplicated it was. Also, the Duro 3 Star Kaden tires gipped the old rock face and held true. Yes, the differential lock kept the XR moving forward.
Difficult climbing situations require steady throttle input and a 4WD system with differential lock that is locked-down secure.
Now we all know smooth and gentle throttle control (not slammed wide open) helps an ATV and its rider climb up and over steep rocks and hills – to prevent wheeling over. In this case, the Cat XR 550 XT lugged – tractor like – up and out the gnarly hole and to the boulder's flat top. I was impressed.
Climbing Moab's rocks was an education in, well, climbing. But one must descend that which was climbed. The XR's engine brake system kept the ATV from free-wheeling down the rocks; the motor and transmission eagerly fought against gravity. Scary descents became simple non-eventful descents.
The engine braking system ensures the XR descends steep slopes in a slow and controlled manner.
While traveling Moab's high trails, we let the XRs – 550 and 700 – play in some crusty faceted snow. With diff lock engaged, the XTs and Limited, threw down posi-trac power to the Kaden tires and crept along. The XRs didn't show any quit until snow depths were well over the wheel hubs. From this experience, the XR with its 11-inches of ground clearance and differential lock will make a good mudder.
In snow conditions, the XR's Duro 3 Star Kaden tires provided sufficient traction to move the ATV forward. Of course, differential lock must be applied.
Arctic Cat is taking its ATV line to a newer and higher level with the XR line, both in quality and function. Would we put this ATV up against any of the ATVs mentioned in this feature's opening, the Grizzly, Brute Force, King Quad and Rincon? Yes. After pulling off the panels and noticing how open the XR is, testing the EPS, Duramatic/CVT transmission, and engaging the on-demand 2WD and 4WD and differential lock, we easily state this ATV is as good as it gets.
COMPARISON: Read our review of the 2014 Yamaha Grizzly 700 EPS + Video
As we rode XR, we commented at how well it cornered when clipping along at moderate to high speeds; handlebar pressure from the EPS felt sure. Driver position – seated and standing – were not burdensome to the arms and legs; it is an ATV that limits body fatigue.
The XR moves into and out of Forward High, Forward Low, Neutral and Reverse with ease. The brake levers and brake foot pedal were not hard to find. The footboards were spacious, and the XR's middle footboard traction brace did not impede foot movement. Engine and transmission heat did not boil our feet, but outside temps were 45-degrees, which did reduce foot sweating.
An Impressive Cat
Arctic Cat is moving away from yesteryear ATV-company to a more modern ATV company with comfort, utility and mechanical fortitude in mind. The Ride-In suspension/chassis delivers smooth trail riding, while the XR's power steering and transmission tame the rough stuff and workloads.
If you own an ATV from another builder, or you own an older Arctic Cat ATV, pull into a local Arctic Cat dealer and learn about the XR – take one for test drive. After doing so, peel off its panels and learn how accessible its engine components are, you'll be impressed.
Published February 11th, 2015 2:20 PM
Top Brands
Popular Articles